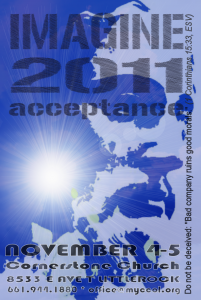 Cornerstone Church is having its second annual youth outreach conference. This is a time for churches in the community to rally together, bringing teens from our communities and churches to hear the gospel of Jesus Christ and to join together in worship of our savior.
This year's theme is acceptance. What does peer pressure cause our teens to do to be accepted by others? The theme verse is 1 Corinthians 15.33, "Do not be deceived: 'Bad company ruins good morals.'"
7th grade through 12th grade
Cost: $10
6-10 PM on Friday, November 4th
8 AM-1:30 PM on Saturday, November 5th
Note for youth leaders: One leader is free per six teens that you bring. You are encouraged to send at least one leader with a group of any size.
Visit us on Facebook: facebook.com/ccol_imagine
Schedule
Friday
6:00 PM                Crowd Breaker
6:30 PM                Worship
7:00 PM                What a Bunch of Rubbish!, Anthony Delgado
7:30 PM                Dismiss for Break-Out Session
7:45 PM                Break-Out Session
8:15 PM                Relief
8:30 PM                Fun Evening Event
Saturday
8:00 AM               Crowd Breaker
8:30 AM               Worship
9:00 AM               John Stinson
9:30 AM               Dismiss for Break-Out Session
9:45 AM               Break-Out Session
10:15 AM             Relief
10:30 AM             Break-Out Session
11:00 AM             Crowd Breaker
11:30 AM             Worship
12:00 PM             With Your Mouth and Heart, Anthony Delgado
12:30 PM             Lunch/Counsel Time