Stronghold Youth Group
The Lord is good, a stronghold in the day of trouble, and He knows those who take refuge in Him. (Nahum 1:7)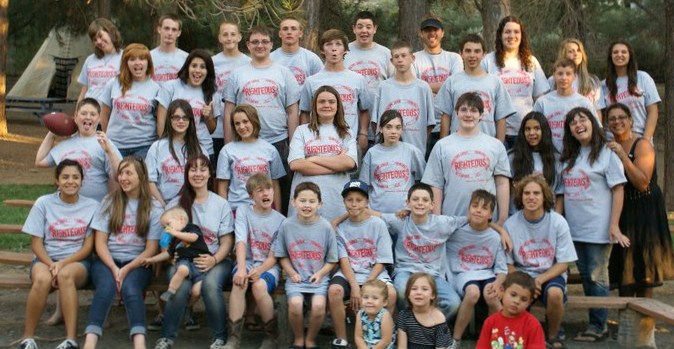 Stronghold Youth Group is an awesome group of individuals. We have great groups of both Jr. High and High school. These students of the Lord have fine servant hearts.
The group is actively involved in various ministries at the church including worship band, cleaning crew, nursery and AWANA. They are always looking for new ways to be involved as part of the body of Christ.
Aside from the time we share in ministry opportunities, we also have some fun fellowship time. We've enjoyed going to concerts, conferences, Six Flags, camping, Hangout Nights and much more together.
Please come hang out with us Wednesday nights at 6:30pm or Sunday at 9:45 am and learn more about what it means to be a follower of Christ.
Philosophy of Youth Ministry
The Bible does not specifically mandate segregational ministry of any kind, including youth ministry. However, the Bible does give freedom to the church in ministering to the congregation and community so long as biblical standards are maintained. Just as the Apostle Paul adapted his approach to ministry in order to minister to Jews and Gentiles, the modern church should adapt to meet the needs of our culture and community in regards to youth ministry (1 Corinthians 9.19-23). A biblical youth ministry should, therefore be focused on evangelism, baptism and catechism (teaching/training) of the youth of our church and communities.
Evangelism and Outreach   
It is one thing to preach the gospel to teens and a whole other thing to lead a teen to Christ. In my experience teens rarely come to true saving faith at the time they say a prayer or even when they get baptized. It is when they learn God's word and experience the Christian life that they come to a true understanding of Christ and embrace grace. I believe it is essential to bring unsaved and unchurched teens into the youth ministry to experience Christ.
Teaching
I believe that the teaching of God's word is central to youth ministry, especially as it relates to training in righteousness (2 Timothy 3.16). Recent polls show that 70-75% of teens will leave the church when the graduate high school. The more a teen understands the truth of God's word and is able to zapply it to their lives, the more likely they are to embrace that truth prior to adulthood and remain in the church.
Discipleship          
Discipleship, to me, is the process of living life alongside your mentor. In youth ministry, it is valuable to have leaders who are willing to just hang out with the youth and show them how to live the Christian life. This is essential for the teens to see the reality of living life as a Christian in adulthood.
Service                 
True faith is evidenced by fruit produced for Christ's kingdom. A successful youth ministry provides bountiful opportunities, not just within the ministry, but within the church and community where teens can explore their spiritual gifts and experience what it means to be a servant of Christ.