Almost 50 women attended the retreat at Shiloh, nestled in the hills of the Devil's Punchbowl.  God provided the most wonderful weather; we enjoyed the warmth of the sunshine on the porch at noon where we could take in the sun and were refreshed by the cool evenings around the fire ring. The view of the snow capped mountains directly behind the cabins provided a breathtaking view to behold each day.
DawnAnn Burch came from Grover Beach to bring our lessons on "Living Hope" and she brought a missionary from Albania, Linda Chappell who was a real bonus. Many scriptures from God's Word were shared, our theme verse was Romans 15:13 May the God of hope fill you with all joy and peace as you trust in him, so that you may overflow with hope by the power of the Holy Spirit. The teaching was just what we needed as we reflected on what causes us to live in fear instead of the hope God promises.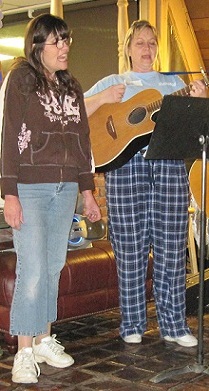 It was a great time of making new friends, bonding with other women, gaining spiritual insights from each other,  awesome worship, laughing, crying, sharing testimonies, being silly, and serious.
We enjoyed an amazing amount of delicious healthy food and filled in with plenty of snacks, chocolate and of course ice cream.  Many took a walk to the Punchbowl and had a tour of the displays at the reserve; the view along the trail was amazing.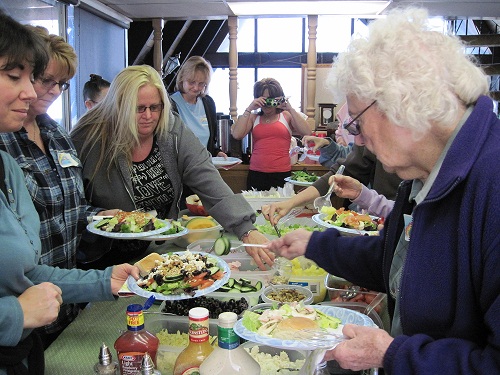 Six teams designed very creative dresses out of duct tape and we had a fabulous fashion show displaying their creative handiwork.  Walking in the long exquisite gown proved to be challenging, as well as standing close enough to each other to pose for a picture, and not 'stick together' with the go-go girl, the trailer T queen, or the Viking princess.  It was a very sticky situation, but we all stuck it out and in the end the sisters stuck together.
We are all full of praise for a wonderful weekend focused on our God in whom we place our hope.  God is our 'Living Hope', now and forever.  Praise be to God!